Fantasy football. A fake game based on a real game that unites people across the globe. It's odd, but beautiful. Among fantasy football's best attributes is the absence of stagnancy. The fantasy game continues to evolve year after year. There was once a time when there were no dynasty leagues. No rookie drafts. No FAAB. Options lacked in a big way. There was stagnancy.
However, the creativity surrounding the fantasy community led to an evolution that created the game so many love today. From daily fantasy to guillotine leagues, the options have expanded to a point that there is a style for all. Dynasty leagues themselves have become a mainstay of the community; the excitement of a startup draft ever so palpable. Though, excitement can quickly turn to disappointment if not well prepared. Have no fear; the following guide is all that is needed for start-up draft preparation. Welcome to Dynasty Methods of Madness!
To Begin
Be Flexible
When entering a fantasy draft, it's important to be prepared with a sense of strategy. However, one must also be prepared for the possibility that said strategy may explode into pieces early in the proceedings. Whether a star player falls in the draft or quarterbacks fly off the board quicker than anticipated, knowing when to pivot and/or abandon the game plan is essential.
Be flexible with the actual picks, as well. If a targeted player gets sniped the pick prior, for example, making said pick available for trade is a wise choice; trading back in a draft is generally beneficial. Overall, maximizing the value of each pick is the optimal route, even if it means disposing of pre-draft objectives. Hence, the importance of flexibility (and why it will resurface throughout this article).
Ideally, every fantasy manager wants a roster compromised of both youth and experience. Much easier said than done, however. Not everyone can contend while staying young. After years of partaking in dynasty startups, it's inevitable that knowledge and understanding will grow. Adapting to the times and evolving as a strategist are as important as it gets.
Build for Now and the Future – Youth at RB
When attempting to construct a team in this manner, one must look at where youth is most important. When it comes to the game of football, the running back position has the shortest "shelf life." By the time most backs reach a second contract, they've already seen a massive workload. At age 27, a steady decline in production begins, and by age 29, most are irrelevant.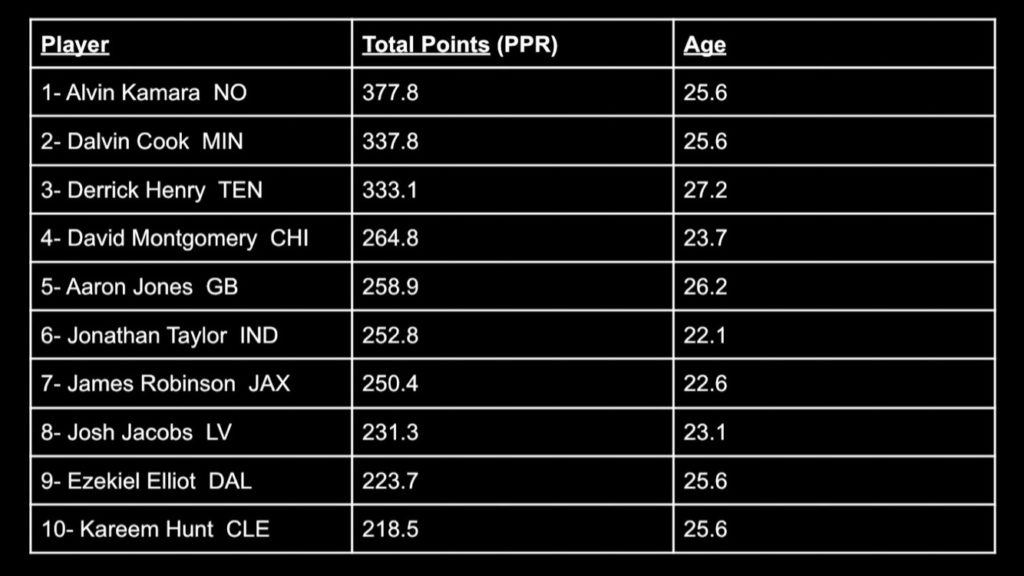 One way to see this is by using the top point leaders in PPR scoring. In 2020, for example, there were no backs that finished in the top-10 that were older than 26 (Derrick Henry turned 27 in January). In fact, 2017 was the last time a back over age 26 did make the top-10. There were two; Mark Ingram (at age 27) and LeSean McCoy (age 29). For that reason, it's wise to target youth at the RB position more than any other.
Build for Now and the Future – Prime Time
At the other skill positions, most players are entering their "prime" as they approach second contracts. Wide receivers, in particular, live out the prime of their careers on average between the ages of 24-30. Once again looking at top finishes in 2020, only two players were outside of that age range and both were younger; Justin Jefferson (age 21) and D.K. Metcalf (age 23). With the exception of Julio Jones or Julian Edelman having respectable years after 30, this age range will produce the top wideouts on a regular basis.
The tight end position is similar to receiver. In 2020 though, Rob Gronkowski and Travis Kelce both were top-10 at age 31. Two 23-year-olds cracked the top-10, as well; T.J. Hockenson and Noah Fant had highly productive seasons. There is a tad more variance with the tight end position, but the top players fall in the same age range. The variance with the quarterback position is much higher, however.
In recent years, Patrick Mahomes, Lamar Jackson, Deshaun Watson and Kyler Murray have all hit top-10 finishes under the age of 24. Meanwhile, some feisty veterans continue to roll well into their thirties (or FOREVER, in Tom Brady's case). Though the range is much broader with the position, there are other aspects to consider when drafting quarterback (more on that to come). Now that optimal age range has been discussed, we move on to maneuvering through the draft.
The Early Rounds
The Case for Drafting QB Early
For leagues with the standard one quarterback slot, the general consensus has always been the same; wait. While that may have proven true in the past, the tides are turning. The mobile quarterback isn't the rarity it once was, but there is still a handful to rely upon. Out of the top-10 QB scorers in 2020, eight rushed for over 200 yards, with Aaron Rodgers (149 yards) and Tom Brady (six yards) being the exceptions.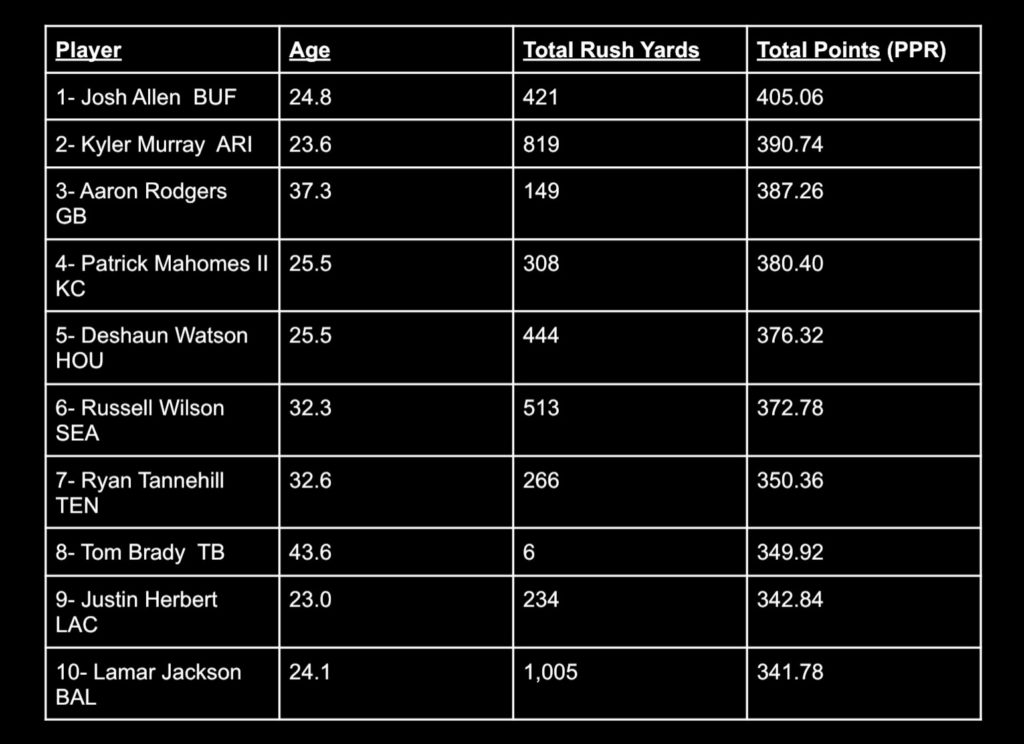 Of the quarterbacks remaining, six of the eight rushed for over 300 yards. When gazing past the top-10 fantasy scorers at the position, it gets ugly. Kirk Cousins stands out as passable, but after Mr. YOU LIKE THAT?!, the list gets rather ugly. Lamar Jackson, No. 10 on the list, totaled 341.78 fantasy points; Matt Ryan sits at No. 12 with 293.44 points. Given that Jackson played one less game, he averaged four points more per game than Ryan. It only gets worse from there.
When it comes to the aforementioned Superflex and 2QB leagues, it's imperative to draft a top tier player at the position. While it's possible to ride out a season with little depth, that's a dangerous game to play. Baker Mayfield and Matthew Stafford are two names to target for a second QB in the later rounds; both of these players should be vying for top-10 in 2021. The position is evolving and "waiting" is not the viable strategy it once was. The advantage lies with those carrying the rushing upside; don't miss out on one.
Focus On RB and WR
During the early rounds of the draft is where the top running backs will be targeted. It would be ill-advised to leave the first five rounds with no less than two. Ideally after those first five rounds, a team's core should consist of a quarterback, one or two wide receivers and multiple running backs. Of course, nothing is set in stone. As the flow of the draft changes, adjust accordingly and maintain that flexibility that was discussed earlier.
Drafting in the early rounds, the decisions tend to be easier than they are on in the draft, but there are still things to consider when targeting players. Everything that happens during an NFL offseason alters each team to an extent. A quarterback change can lead to a different offensive scheme, or an incoming rookie excels and earns snaps at another's expense. Change is inevitable.
The biggest key to the early rounds is hitting on those top guys; so aim for the safest bets. Factors such as injury history, depth charts, Vacated Targets/Touches, and even the schedule can be considered in these decisions. It may be considered overthinking, but a little extra effort in the offseason always makes things easier later on down the road. The old mantra that a league can't be won in the draft but can be lost is true; avoiding risky players is key. A great example of a player that needs to be targeted in upcoming startup drafts is Rams running back Cam Akers.
During the last four games of his rookie season, Akers went under 20 touches just once. The Rams showed they are ready to let the second-rounder roll. With Malcolm Brown likely gone, Akers has only Darrell Henderson to compete with. A nice player in his own right, Henderson will get some work. But make no mistake; Cam's the man. Add in an upgrade at quarterback, and the second-year back is primed for a big 2021. Oh yeah, he'll be a youthful 22 years old when the season begins.
The Middle Rounds
Adding Depth – Consistency & Upside
As the draft wades into the middle rounds, building depth behind the team's core is where it can all go wrong. The best tactic is to target both consistent producers and players with high ceilings. The consistency will bring reliable depth, while the upside shots can really boost a team. A few players who fit these descriptions in 2020 were Marvin Jones (consistency) and Justin Jefferson (upside).
Jones was heavily relied upon last season in Detroit while Kenny Golladay missed time with an injury. He finished the year No. 18 in PPR scoring at the position with 227.8 points. Meanwhile, Jefferson made waves as a rookie, finishing as the No. 6 receiver on the year with 274.2 points. Those rostering Henry Ruggs right now must be feeling mighty sick, though maybe not as sick as Eagles fans (rooting for ya, Jalen Reagor).
Sterling Shepard and Bryan Edwards are two targets for 2021 startup drafts. In Shepard's case, he finished last season as the No. 43 receiver in PPR scoring. However, he did miss four games due to an injury. Upon his return, he averaged eight targets, 5.8 receptions and 58 yards per game. Another year with Daniel Jones and Shepard will have a solid year should he stay healthy.
As for Edwards, he'll look to rebound after a disappointing rookie campaign. The aforementioned Ruggs should get more run, but gone are Nelson Agholor, Tyrell Williams and Zay Jones. Edwards has the potential to be Vegas' leading receiver and now has opportunity. Unless he's already gotten under the skin of coach Gruden, of course. Even if that's the case, he's a must grab in '21 drafts. The upside is undeniable.
The Tight End Position
Similar to quarterback, the tight end position provides the opportunity to have an advantage over other teams; there are only a handful that make a real difference. Like quarterbacks, those difference makers will go early in the drafts,  and for good reason. Travis Kelce sits at the top of this mountain every year, but a few players are right behind him when it comes to fantasy points scored.
In 2019, George Kittle ranked No. 2 in total points, followed by Darren Waller, Zach Ertz and Mark Andrews. Austin Hooper was solid at No. 6, but there was a drop-off in production after that. The 2018 season wasn't much different, with the drop-off coming after the No. 5-ranked Jared Cook. Last year may have fantasy gamers fed up with the position; after Kelce and Waller there was a 100-point drop off to the No. 3 player Robert Tonyan.
However, it was clearly more of an outlier season when comparing to the previous years. Andrews had a down year and Kittle missed most of it. The Eagles offense, which generally creates a highly productive tight end, was a mess. 2021 will revert back to the mean, and highly productive tight ends will be had in the middle rounds. One player who will creep into the top-5 this season and can currently be had in the seventh round is Dallas Goedert.
---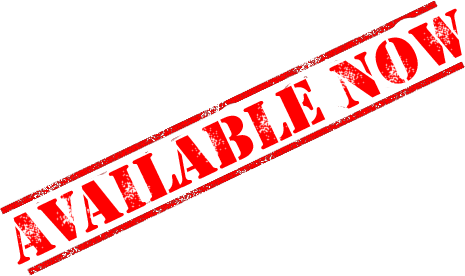 ---
With Ertz likely out in Philadelphia, and Jalen Hurts taking over the reigns at QB, Goedert has an appealing ceiling. Last season, he posted a +9.1 (No. 6 among qualified tight ends) Production Premium and a +14.7-percent (No. 6) Target Premium. This is a highly efficient player on a team with an abundance of vacated targets (bye DeSean Jackson and Alshon Jeffery) and a potential upgrade at quarterback. He's the perfect type of tight end to target in the middle rounds.
The Late Rounds
Upside, Upside, Upside
In the later rounds of the draft, upside is the main focus. These picks are often referred to as "lottery tickets" or "flyers." However, it's possible to improve the odds a pick will hit. This requires going back to those factors such as injury history, Vacated Targets/Touches, depth charts, etc. Research pays dividends! Talent and opportunity, even if only potential opportunity, lead the way.
For instance, James Robinson was a steal in 2020 and those who saw the signs had him rostered ahead of Leonard Fournette's release. He went on to finish the season ranked No. 7 with 250.4 PPR fantasy points. Sure, he had a sizeable workload for the Jaguars with 240 (No. 6) carries, but Robinson was efficient with his productivity, logging a 31.8-percent (No. 4) Dominator Rating. He was also No. 6 with 423 Yards Created.
While it's too early in the offseason to look at undrafted free agents, there is a player worth mentioning who is currently being drafted in the 21st round; Miles Boykin.
While Marquise Brown has his role, he isn't No. 1 wideout material. Lamar Jackson, the former NFL MVP, needs another go-to target aside from his trusty tight end. Boykin has stellar workout metrics and is entering his third season at a mere 24 years of age. Should the Ravens up the passing attack, Boykin would be a sneaky beneficiary.
Conclusion
When it comes to fantasy football, there are rarely clear answers; otherwise it'd be far too easy for everyone. On the other hand, there are numerous ways to go about the game that can be effective. This goes for drafting, as well. In years past, the zero RB strategy was lucrative. Other years, a more robust RB approach was more viable. In a game which is so unpredictable, with so much variance, it's necessary to take advantage of the information available.
The best one can do during a draft is to maximize the value of each pick by minimizing risk. Following the analytics, along with a player's team environment, will help accomplish this. Dynasty is a long game; the startup draft is one piece to the puzzle, but important in laying a foundation. The more armed with information a fantasy manager is, the more likely they'll stay flexible and draft well. Don't suffer post-draft disappointment. Prepare yourself!